Euphoria around Bitcoin's break above $10,000 over the weekend appears to be short-lived.
The largest cryptocurrency found resistance just above that level, reaching as high as $10,194 on Sunday before pulling back, according to data compiled by Bloomberg. It similarly struggled with that level in September when it crossed $10,000 — the month that followed saw it lose more than 14%.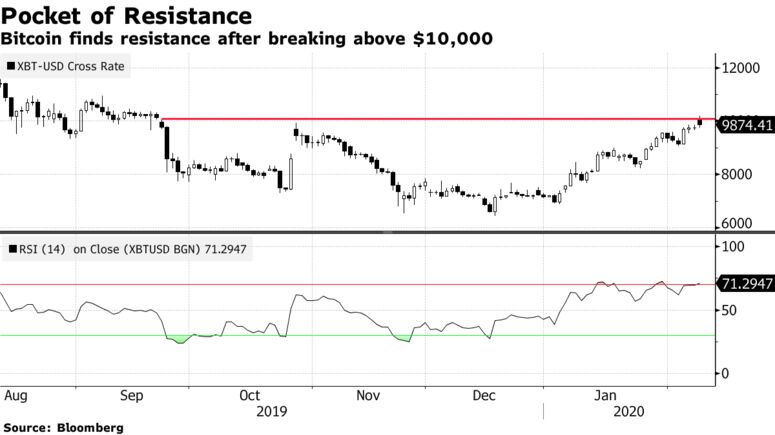 In addition, the token is overbought based on the 14-day relative strength index (RSI), which crossed the 70 mark. Assets are considered overbought if the RSI exceeds 70. Those two factors suggest a potential retreat ahead as the coin struggles to meaningfully break out from its recent trading range. ADVERTISING
"It's a consolidating bull market," Mike McGlone, an analyst with Bloomberg Intelligence wrote in a recent note. "Volume and open interest in futures, and on-chain addresses used, are primary Bitcoin-adoption metrics that have soundly increased vs. a month ago, supporting price appreciation. The next key story for the benchmark crypto will be its bid to exit the $8,000-$10,000 range."
On Sunday, Bitcoin surged above the $10,000, marking only the third such major breakout in its history. The first occurred in 2017 before it rose to near $20,000 and, more recently, it broke above it in mid-2019 before retracing.
Bitcoin was up 1.4% as of 10:44 a.m. in New York to trade around $9,884. Litecoin and Ether each gained 1.9%, while the Bloomberg Galaxy Crypto Index — which tracks some of the largest crypto assets, gained 1.8%